Quick and Healthy Dinner Recipe: Lemon Garlic Salmon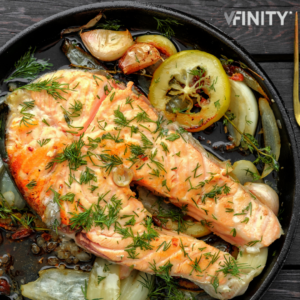 Are you looking for a simple, quick, and delicious dinner this weekend?  Check out our Lemon Garlic Salmon recipe! Flavored with fresh herbs, garlic, and lemon, make this recipe the perfect summer meal!  Lemon garlic salmon is a quick and easy recipe anytime you want something delicious and simple. Pair it with roasted veggies and quinoa or with sweet potatoes for a more savory meal.  It also works great on top of a salad or by itself as a snack. 
Eating protein-dense foods will help you feel full and satisfied, and it can help reduce cravings later on. Protein is essential for supporting brain health, hormone and enzyme function, and muscle protein synthesis. The omega-3 fats are "essential" for good nutrition because your body can't make them independently, so you have to get them from food. Omega-3's can help decrease inflammation and improve your sleep.
We recommend selecting wild-caught Alaskan salmon, which is an excellent protein and omega-3 fatty acid source, for this recipe. 
Recipe Yield:
2 servings
Items Needed 
baking sheet, parchment paper, small bowl, measuring spoons.
Ingredients
2 salmon filets, 5 oz each 
1/2 tablespoon olive oil or avocado oil
2 cloves garlic, minced
1/2 tablespoon honey
1/2 lemon, juice of
1/2 teaspoon sea salt
1/4 teaspoon black pepper
Directions
1. Preheat the oven to 375 F. Coat a baking sheet with foil or cover with parchment paper.
2. Mix the oil, garlic, honey, lemon juice, salt, and pepper in a small bowl. Spoon this mixture on top of the salmon filets or tempeh.
3. Place the filets on the baking sheet and bake for about 15- 20 minutes until cooked.
4. Serve and enjoy!
Nutrition Facts
Serving Size: 1 serving
Servings per Recipe: 2
Calories per Serving: 235
Protein: 29
Carbohydrates: 7
Fat: 10