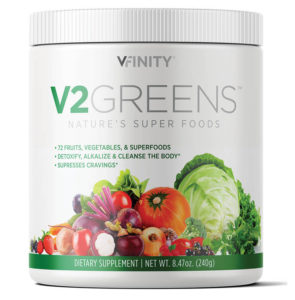 V2 Greens™
$60
Preferred Customer Pricing: $45
save $15 when you sign-up as a Preferred Customer!
Click here for more info
Body Balancing Greens
(30 Servings)
Natures Immunity Booster and Cravings Crusher!
Get your daily serving of wholesome fruits and vegetables plus a potent dose of our premium superfood antioxidant blend with V2 GREENS! Our V2 GREENS combines the very best of farm-fresh, alkalizing greens along with wholesome fruits, vegetables, and a full dose of our powerful superfood antioxidant blend for a delicious and convenient way to feel incredible each day.
ALKALIZE, DETOXIFY, & CLEANSE| NATURALLY BALANCE YOUR BODY*
HEALTH & WELLNESS | SUPPORT OVERALL HEALTH AND NUTRITION*
IMMUNITY | STRENGTHEN YOUR IMMUNE SYSTEM*
Get your daily serving of wholesome fruits and vegetables plus a potent dose of our premium superfood antioxidant blend with V2 GREENS!
Directions: Add one scoop to 8oz of juice or water. Stir. Feel Amazing!

Acacia Fiber
A soluble fiber that acts as an appetite suppressant and aids weight loss efforts by increasing satiety.*
Aloe
Traditionally used topically, Aloe has been found to have some benefits in maintaining blood sugar levels that are already at the normal levels.*
Apple Fiber
Apple fiber is made from the whole apple, thereby deriving all the health benefits of extra fiber.*
Artichoke Extract
Offers valuable health benefits for the digestive system and promotes healthy liver function.*
Bamboo Fiber
This supplement contains insoluble fiber with silica which promotes the formation of collagen and promotes the growth of hair, nails, and skin.*
Barley Grass
Derived from young green cereal grasses, this supplement is closer to a vegetable extract than a grain and many health benefits come from the chlorophyll, protein, and vitamin content available in the young plant. As barley grass ages, the nutrient content changes.*
Blueberry (Juice)
Known to provides antioxidants
Brown Rice Bran
The outer layer of the brown rice shell provides vitamins, phytochemicals, and minerals. In addition, the fiber content of this whole grain helps suppress the appetite.*
Buchu Leaf
A South African shrub that promotes overall wellness.*
Cornsilk Powder
This supplement is made from the female stigma of the corn plant, which provides vitamins in addition to other nutrients and sterols.*
Cranberry Fruit
Providing antioxidants, the concentrated version of Cranberry Fruit found in V2 Skinny Greens offers more potent benefits than the fruit or juice itself.
Dandelion Leaf
This common garden weed is packed with vitamins and minerals that promote liver and gallbladder health.*
European Ash
The leaves and bark of this native European tree were used by Hippocrates and the Ancient Greeks.
Ginkgo Biloba
This herb has been used for thousands of years by the Chinese.
Goldenseal Leaf
This bitter perennial herb promotes digestive health.*
Licorice Root
Contains hundreds of flavonoids and phytoestrogens that contribute to overall health and longevity.*
Luo Han Guo
A non-caloric, natural fruit sweetener that the ancient Chinese believed to aid in longevity.*
Marshmallow Root
This native European perennial is used for both the flower and the root, however the root powder swells when ingested which promotes the feeling of fullness therefore contributes to weight loss.*
Nova Scotia Dulse
This red seaweed is found in the North Pacific and North Atlantic and contains mineral and protein content.
Oat Grass
This young cereal grass promotes cardiovascular and liver health & is instrumental in removing environmental toxins from the body.*
Organic Spirulina
A blue-green freshwater microalga which provides vitamins and nutrients.
Organic Stevia
This natural plant-based sweetener sweetens foods without causing the blood sugar to rise.*
Organic Wheat Grass
This super food provides minerals and some amino acids which promote health and longevity.*
Parsley
An important herb that promotes digestive health.*
Rose Hips
The dried seed pod of roses provides vitamins which promotes weight loss, digestive health, and gallbladder health.*
Red Beet Juice
This root vegetable contains several nutrients which promotes cardiovascular health.*
Red Raspberry
This sweet berry has antioxidants which promotes gastrointestinal health.*
Rosemary Leaf
A woody evergreen herb from the mint family that promotes gastrointestinal and digestive health.*
Sage
This herb is a perennial shrub containing several nutrients which stimulates the central nervous system while helping to detoxify the body.*
Spectra Hi ORAC (Oxygen Radical Absorbance Capacity)
ORAC is an index of antioxidant strength.
Strawberry Fruit
A seasonal fruit containing several vitamins and minerals, which promotes health and longevity.*
Sugar Cane Fiber
A natural unprocessed plant-based fiber that helps slow digestion and improve taste.*
Uva Ursi Extract
Also known as the bearberry extract, Uva Ursi has been used since the second century to promote bladder and kidney health.*
Tastes Good For A Green Drink
This product tastes really good. I used to be in another company with greens and it was gross. Im sure it was good for you but I couldn't drink it. This wakes me up the second I drink it and it has no caffeine! I never eat fruits or vegetables so this helps me a lot. it also has cut my appetite when I take it. It is so good really
Fruits And Veggies
Good way to get your daily fruits and veggies in. Tastes great too and very little calories
Great Product
I've been taking the greens now for 3 years and my skin has cleared up, it helps control my appetite, and gives me natural energy every time I drink it. It also tastes really good-way better than my previous greens I took.
What is V2 GREENSTM?
V2 GREENSTM is a concentrated blend of 72 premium herbs, extracts, and superfoods contained in a single serving. Abundantly nourish your body with vitamins, minerals, phytonutrients, and enzymes in natures most bio-available and bioactive form. *

What are the benefits of using V2 GREENSTM?
With 72 carefully chosen ingredients, V2 GREENSTM nourish and alkalize your body while curbing your cravings. Our premium V2 GREENSTM also promote digestive health and inhibit fat storage while detoxifying, alkalizing, and cleansing your body for optimal balance*. V2 GREENSTM is also gluten-free, vegan and 100% Keto-friendly!

Can V2 GREENSTM replace eating fruits and vegetables?
V2 GREENSTM provide the equivalent of eating 3-5 servings of fruits and vegetables per serving!

How do I use my V2 GREENS?
Vigorously mix one scoop of V2 GREENS (8g) with 8 fluid ounces of water day or night. For maximum weight management support and to control cravings, take V2 GREENS twice daily.

When is the best time to take my V2 GREENS?
For optimal results, take V2 GREENS twice a day both in the morning and again before bedtime, or any time you have cravings for food.

Can I take other Vfinity products while using V2 GREENSTM?
All Vfinity products fully support your body as part of a healthy weight management program. Each works synergistically together and promotes a healthy balance for a total lifestyle transformation system. Along with proper nutrition and exercise, Vfinitys health and wellness program are designed to put you back in charge.
*These statements have not been evaluated by the Food and Drug Administration. This product is not intended to diagnose, treat, cure or prevent any disease.